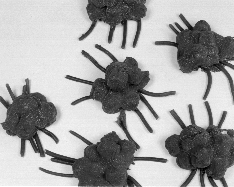 You Need:

- 12 oz. semi-sweet chocolate chips
- 5-1/4 oz. mini marshmallows (half a bag)
- waxed paper
- thin licorice whips ( black, brown or purple)



Recipe:
Melt chocolate in either microwave or double boiler until just melted. Stir until smooth. Add marshmallows. Place by spoonfuls on waxed paper. Decorate with licorice "legs". Let dry.

Try variety. Add raisins or nuts or both, even m&m's work well. Try different kinds of spider legs too. Potato Sticks or pretzel sticks. Think of even more. Be creative and have fun. Also spiders set much faster if put in the freezer for just a few minutes.

Makes about 16 spiders.