Fruit Bowl

You Need:


Large melon (honeydew, cantaloupe or watermelon)
Lots of other summer fruit
Orange juice

---
What a beautiful way to serve fruit. Great for picnics or parties or just to make the day special. Goes great with breakfast, lunch or dinner.
PREPARATION :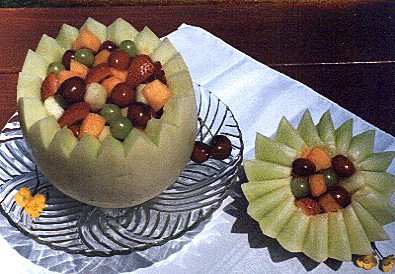 This project involves quite a bit of cutting with a knife and should be done by an adult or by older children with adult supervision.
Wash melon and all fruit thoroughly before beginning.
Cut a very thin slice of bottom of melon to make it stand up straight. (This may or may not be necessary or possible with a watermelon). Decide where top of "bowl" will be on your melon and mark lightly all around with tip of knife. Cut zigzag pattern all around and remove top piece. With a spoon scoop out any seeds. Save top piece aside for "individual fruit bowl".
Cut out melon flesh to within 1" of the side. Remove in large pieces and cut into small squares. Place in medium to large bowl. Cut up all your other fruits into small bite-size pieces as well; taking care to remove all seeds, pits, hulls, etc. Place these into bowl with melon pieces. Drizzle orange juice over top and toss. Scoop back into melon. Save any extra fruit for refilling melon as needed.
Quite a variety of fruit can be used for this recipe. We used honeydew melon, cantaloupe, dark cherries, green grapes and strawberries. Use whatever is fresh and in season.
---
Other Summer Fun Free Stuff



---