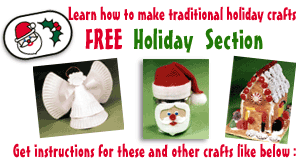 Santa Candy Jar

You Need:

Red felt
White felt
One one-inch white pompom
Baby food jar (4 oz. +)
Skin color felt, paper or paint
Blue paint, marker or paper
White paint, paper or white out
Glue-stick, hot glue, or tacky glue
Candies to fill jar
Scissors



Start with clean, dry 4 oz. or larger baby food jars. (The only difference is that with a larger jar you'll make a Santa with a longer beard but more candy in your jar.) Cut felt, and paper pieces according to directions.

CUTTING DIRECTIONS: Cut one 5" rounded-bottom triangle of red felt (see diagram-diagram is not to size; just for example) One way to draw this triangle is to cut a string 5" long hold it where you want the tip of the triangle to be on the felt. Hold a pencil or other marking utensil at the other end of the string. While holding the string... Click here for complete instructions.
Legal : Funroom™ is a Trademark of TAC Marketing, Inc., All information, artwork, and photography used in this publication are copyright © 1996 - 2022 TAC Marketing, Inc. Protected by law, ALL RIGHTS RESERVED. No use of these items may be published without permission. Website development and hosting is provided by TACWeb. For more information see our Privacy and Legal pages.