Welcome to the new retro version of The Funroom, the place you've gone for fun since 1996. Our store has closed, so we went back to the original look from the 1990's!

The Funroom™ is a great place to find fun things to do year round. You'll find everything you need to get creative in any season, including lots of fun

Holiday Fun

,

Crafts

and

Recipes

and

Games

. Plus check out our free

Valentines Section

and other

Free Stuff

.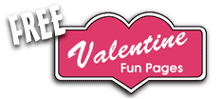 Learn to make fun Valentine's Day Crafts
Get instructions for these and other crafts like below:






Heart Cookies

You Need:

Roll of pre-made sugar cookie dough (or your own sugar cookie recipe prepared)
Jam, jelly or preserves in raspberry, strawberry or cherry flavors
Powdered sugar
Tools: rolling pin, cookie cutters 1 large heart and 1 small heart, strainer or sifter for sifting powdered sugar (optional: baking rack, waxed paper)



Roll out cookie dough (to thickness recommended on package) and cut into large heart shapes. On half of cookies cut small heart out of center of large heart.

Bake according to cookie package directions. Let cool slightly. Separate the cookies with holes away from the cookies without holes.

While cookies are still warm not hot, sift powdered sugar only over the cookies with holes in the center... Click here for complete instructions.
Legal : Funroom™ is a Trademark of TAC Marketing, Incorporated. All information, artwork, and photography used in this publication are copyright © 1996, 1997, 1998, 1999, 2000, 2001, 2002, 2003, 2004, 2005, 2006, 2007, 2008, 2009, 2010, 2011, 2012, 2013, 2014 TAC Marketing, Inc. Protected by law, ALL RIGHTS RESERVED. No use of these items may be published without permission. Website development and hosting is provided by TACWeb. For more information see our Privacy and Legal pages.